https://www.aisectlearn.com/wp-login.php?action=logout&redirect_to=https%3A%2F%2Fwww.aisectlearn.com%2Fmy-account%2F&_wpnonce=8e06e08b29
Become a Certified Ethical Hacker
Live
Fee: ₹19,999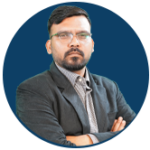 Mr. Ajay Gautam | Cyber Security Expert
This Certified Ethical Hacking (CEH) course will enable you to master advanced network security skills. Through online training, you will gain expertise in network packet analysis and penetration testing, allowing you to effectively protect your network from potential hacking threats.
Objectives
This course will help learners develop a deeper understanding of modern information and system protection technology and methods.
What Will You Learn
Upon its completion, you'll be well-versed in cybersecurity fundamentals, enterprise architecture, and components, information system governance and risk assessment and incident management.
Skills you will gain
Threat actors attacks Mitigation
Security policies amp procedures
Secure architecture
Wireless networks
Network security controls
BYOD security testing
IS governance
Risk management
Incident management
Business continuity Disaster recovery
Prepare for your career path
A career as a Certified Ethical Hacker (CEH) involves using a combination of technical skills and knowledge to assess and improve the security of an organization's systems and networks. CEH professionals use penetration testing techniques to identify vulnerabilities and weaknesses in a network, and then implement solutions to secure the network against potential attacks. This role requires an in-depth understanding of network security and a strong commitment to staying up-to-date with the latest technology and industry trends. CEH professionals are highly sought after in a range of industries, including finance, healthcare, government, and technology. With the growing importance of Cyber Security, a career as a CEH offers excellent job security and opportunities for growth and advancement.
Key Skills to Learn
Cryptography, Cyber Security, Risk Assessment, Cyber Defense, Cyber Attacks, Information Security (INFOSEC), Denial-Of-Service Attack (DOS), Public-Key Cryptography
Jobs in India
Average Salary

Job Growth

Companies looking for Cyber Security experts.


and many more
Curriculum
1. Introduction to Cyber security
2. Cyber Security Building blocks
3. Basic Concepts of Vulnerability
6. Virtual private network (VPN)
9. Blue Teaming & Cyber SOC
10. Attacks, Threats, and Vulnerabilities
12. Web Application Pentesting
13. Reconnaissance & Network Scanning
17. Wireless and Wi-Fi security
18. Testing environment using virtual machines
19. Security Incident Management
Instructor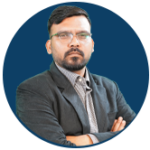 Mr. Ajay Gautam
Cyber Security Expert
Cyber Security
Had done the Advanced Certificate program on Cyber Defense by IIT Jodhpur. Cyber Security boot camp aligned with Singapore skills framework and NICE framework. Trained Indian Power sector officials in collaboration with NPTI. Trained IIT Jodhpur B.tech students about IDPS. Conducted corporate training to secure cyber-physical systems, Tech Mahindra. Developed Cyber range for Indian Army.
Shareable Certificate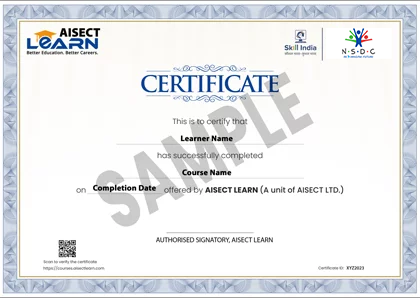 Other Details

Level

Start Date

Credentials
Fees
FAQs
Does this course include a certificate?

Yes, this course includes CEH Certificate, and Students can get an EC Council certificate by appearing in that exam.
Does this course have lifetime access or limited-period access?

This course comes with a 1-year access.
Is this course available in its complete version?

Yes, you can visit the Cyber Security stream also and find more courses on Cyber Security
Is this course available in Hindi as well?

Not Now, This course will be available in the Hindi language soon on the AISECT Learn platform.
What are the advantages of this course?

The learners who are willing to start their journey as Certified Ethical Hackers or people who want to Upskill or looking for growth in their career.
Instructor
:

Duration
:

Videos
:

Certification Body
:

Project
:

Language
:
Access
:

Shareable Certificate
: